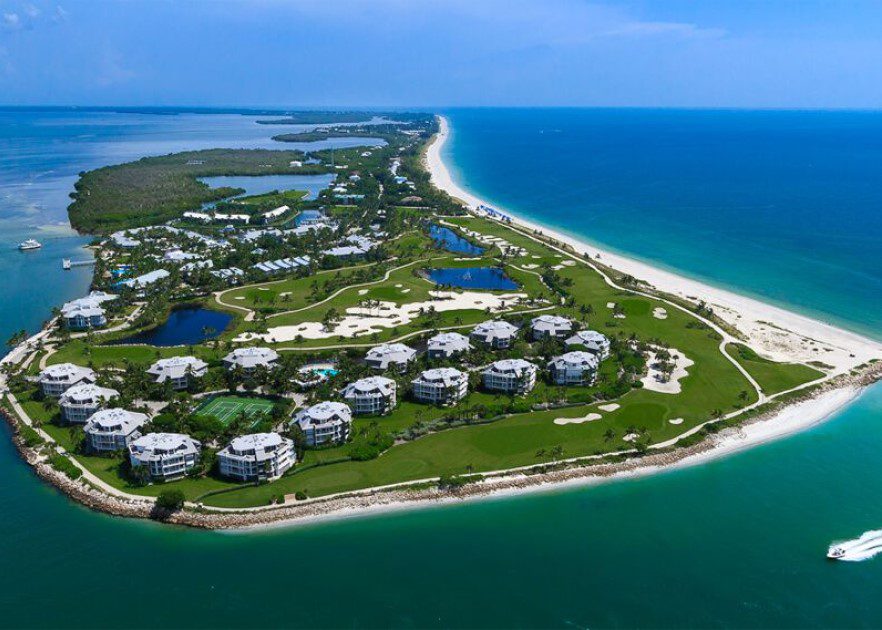 Captiva Island, sister to larger Sanibel Island, is just over a small bridge that crosses at Turner Beach. Turner Beach is a great place for catching that prize fish and also for finding the colorful shells that these islands are famous for. The beach stretches 5 miles to the northern tip of Captiva Island at Redfish Pass. From the bridge at Turner beach, Captiva Drive is a scenic drive past giant cactus, colorful bougainvilleas, and other tropical flora along a stretch of sea and sand ending at "downtown" Captiva, which is more of a village than a town.
Everyone and everything on Captiva Island is a welcoming reminder of just how serene, relaxing, and satisfying that existing in harmony with nature can be. The carefully maintained heritage and constant respectful stewardship of this island make it a true jewel that you must experience and enjoy for yourself.
South Seas Island sits on a spectacular 330-acre wildlife preserve, with much to explore and many exotic creatures, hidden secrets, and delights to discover. Why not have a bit of fun while you're at it? Can you uncover our 15 Points of Discovery? Grab your camera, a ScoutAbout map, and embark on our island adventure to find out. Discover leaping dolphins, lovable manatees, captivating sunsets over the Gulf of Mexico, and so much more. Gather a custom wristband at each point on your journey. Once you've collected all 15 wristbands, head to Camp Skullywags where you will present your map, become an official ScoutAbout member, and earn a spot on the ScoutAbout Wall of Fame.
It's time for fun on Captiva Island. Enjoying a sub-tropical climate and being able to be outdoors in the sunshine all year round. There are so many activities to choose from, fishing, golf, boating, kayaking, canoeing, tennis, swimming, bike riding. Go boating down the waterways and view a variety of wildlife such as dolphins, blue herons, raccoons, and many different species of colorful birds. Wonderful memories for all times for everyone.
Your visit to Sanibel Island or Captiva Island is not complete without sampling some of the local fare and succulent fresh seafood. You will find a wide selection of ethnic foods in the area. Dine-in one of the fine restaurants where chefs cook up some of the freshest, tastiest dishes you have ever tasted. Whether you are looking to enjoy a lavish six-course meal or a more casual dining scene, you will find just what you're looking for. Bon Appetit!