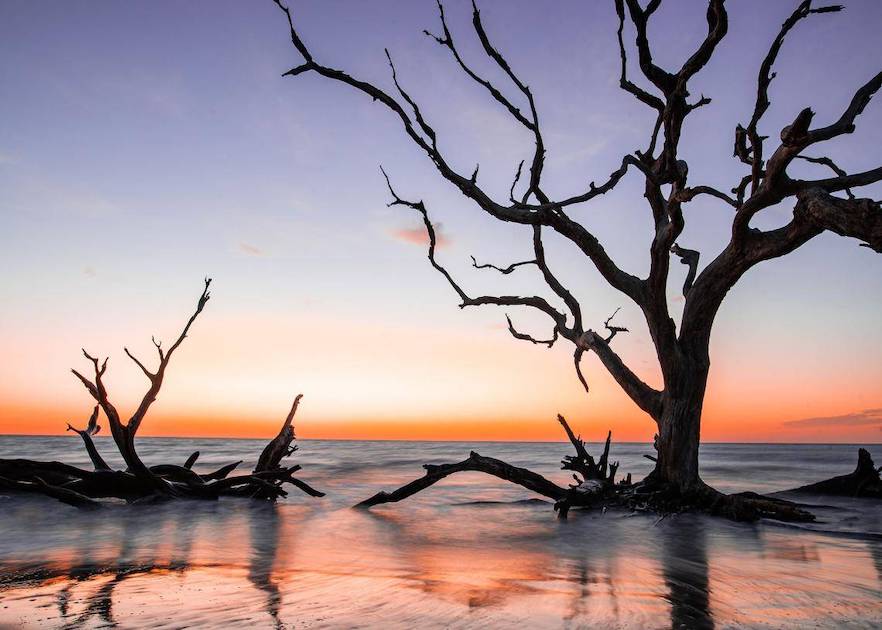 Raise your expectations for what a Georgia beach excursion can be! Jekyll Island is a barrier island on Georgia's coast – midway between Jacksonville, Florida, and Savannah, Georgia. Accessible by car just minutes from I-95, Jekyll Island offers a variety of amenities, including 10 miles of beach, four golf courses, a 250-acre Historic Landmark District, the Georgia Sea Turtle Center, Summer Waves Water Park, tennis center, and an array of lodging options, including hotels, cottages and campgrounds. Owned by the State of Georgia and managed by the Jekyll Island State Park Authority, Jekyll Island has had development limited to just 35 percent of its available land area. This unique aspect of Jekyll Island serves to preserve the critical barrier island ecosystem, and provide guests with a unique escape from the crowds and complications of other beach resort destinations.
The southernmost island of the Golden Isles, Jekyll Island is one of the most popular islands for those who visit coastal Georgia. This 5,500-acre island is home to 10 miles of shoreline and a variety of events, family-friendly activities, and attractions. From the iconic Driftwood Beach to the island's historical homes, the Georgia Sea Turtle Center and more, Jekyll Island has something for everyone. In addition, since the island is owned by the State of Georgia and managed by the Jekyll Island Authority, the island's development is limited to just 1,609 acres to preserve the critical barrier island ecosystem. Great lengths have been taken to honor this ratio while the highly anticipated revitalization of Jekyll Island moves forward. Since most of the island is protected, there is also plenty of nature and wildlife to explore.
Jekyll Island offers an abundance of recreational activities that are sure to please visitors of all ages. Enjoy ten miles of white sand beaches, 63 holes of golf, an outdoor tennis complex, the Summer Waves Water park, a fishing pier, Jekyll Island dolphin tours, horseback riding tours, nature centers, 20 miles of bike trails and the Georgia Sea Turtle Center. The island's beaches are also ideal for shelling. Visit Driftwood Beach and St. Andrews Beach for the best shot at scoring some seashells. Don't miss your chance to play blackjack and hit the slots on the Emerald Princess II cruise ship or play arcade games with the family at Pinball Palace. Explore the island by foot, bike, or horse-drawn carriage! There are many parks and trails throughout the Golden Isles that offer picnic spots, wildlife viewing areas, and scenic vistas.
Set among the Golden Isles, Jekyll Island was settled in 1733 as the Georgia Colony and was later known as the playground for the rich and famous. The Federal Reserve system was planned at the Jekyll Island Club, which was also the site of the first transcontinental phone call. The island was even named Money Magazine's #1 Place to Go in the U.S. in 2019. It also houses a sea turtle rescue center and has been the filming location for films like "X-Men: First Class," "The Legend of Bagger Vance," and "The Walking Dead." The restaurants on Jekyll Island range from casual, family-friendly to elegant fine dining. And there's no better way to experience the hospitality and unique culture than by gathering around the table with friends and family. From low-country fare overlooking the water to award-winning brunch served in a grand colonial ballroom, you'll find plenty of choices to satisfy your cravings for an inspiring culinary experience on Jekyll Island.