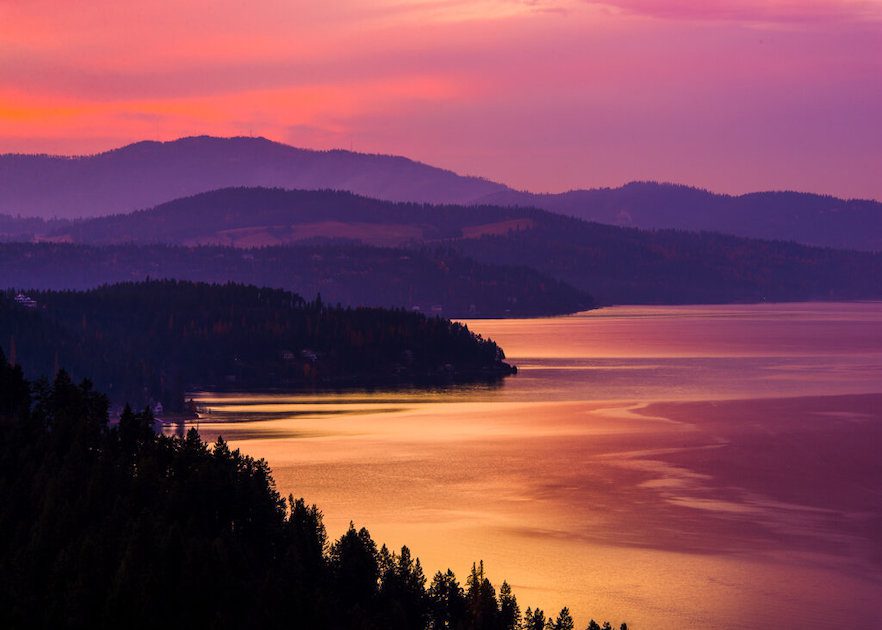 The Coeur d'Alene area is surrounded by dozens of lakes left behind by the glaciers from the ice age. There are more than 55 lakes within easy driving distance of Coeur d'Alene, but none more scenic and full of activities than Lake Coeur d'Alene itself. There is something magical about Lake Coeur d'Alene that's hard to define, but begins with the spectacular North Idaho sunsets and moonrises, the plunge of an osprey after a fish, the glowing lights of downtown Coeur d'Alene reflecting across its waters at night. The perfect place to plan your next vacation and activities.
Coeur d'Alene sits on the shores of the magnificent 30-mile Lake Coeur d'Alene, offering abundant recreational opportunities right in the heart of a vibrant, beautiful downtown. Take a stroll along the 2-mile Tubbs Hill Trail, or just relax on the sandy beaches of Coeur d'Alene City Park. Defined by blue skies, sparkling water, and forested mountains, visitors to the Coeur d'Alene region find a place of intriguing contrasts: five-star amenities in a rugged setting, quiet getaways, exciting attractions, and four-season beauty and recreation. Attractions such as lake cruises and a visit to Silverwood Theme Park along with activities such as teeing up at a championship golf course or shopping for antiques and art downtown show why Coeur d'Alene is known as the playground of the Pacific Northwest.
When you're in a city built on a lake, play comes a little more naturally. Boating. Biking. Beaches. Skiing. Sailing. Golfing. Hiking. Swimming. Paddle boarding. Camping. Exploring. This place has it all! The Coeur d'Alene Golf Club is a public 18-hole course owned by a nonprofit corporation. The course opened in 1957, and was designed by Scott Miller. The Coeur d'Alene Golf Club course features 6,309 yards of golf from the longest tees for a par of 71. Family-owned and operated Rider Ranch is a working cattle and horse ranch just 20 minutes east of Coeur d'Alene. Bring your family or group of friends and come for an adventure that takes you back in time. Their horse drawn wagon with take you for a 20-30 minute tour of our meadow where there might be cattle, horses, deer, elk or other wild animals to see. More Summer event highlights include weekly concerts in Coeur d'Alene City Park and Sherman Square Park; the 4th of July Parade, Festival and Fireworks; the Half Ironman; Live After 5; a weekly farmer's market; Art Walk; Free Carriage Rides, and much, much more.
Coeur d'Alene's art scene is as diverse as its natural environment. It's home to nationally recognized artists, musicians, filmmakers, painters, writers, and much more. Enjoy movie theaters, museums, art galleries, and dinner theater. Learn about the area's history and natural wonders. Immerse yourself in a rich historic adventure. Explore North Idaho's History Museum right downtown, take a mining tour and pan for gold, visit Idaho's oldest mission or even a bordello museum! Coeur d'Alene prides itself on having a wide variety of dining options. From cheap and cool to fancy with a view, you'll find what you're hungry for. Make sure to ask about the hidden local's favorites!