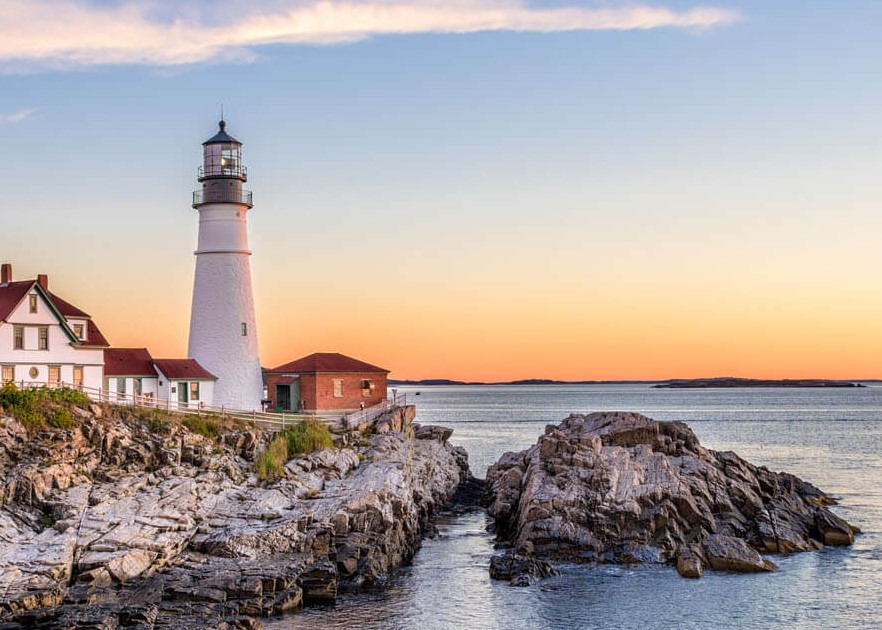 The coast of Maine lives up to its reputation as a destination for locals and travelers alike, who seek relaxation and adventure. Discover the getaway to MidCoast Maine with its world-renowned coastlines, quaint downtown villages, and vibrant working waterfronts. Day trips up and down the coast will give you plenty of opportunity to take advantage (and photos galore)  of what makes the mid-coast of Maine so unique: picturesque harbor villages, endless choices of fresh locally grown food, and natural beauty as far as the eye can see. Take the 3-hour scenic route from Portland to Bar Harbor and the Acadia National Park and enjoy all the savory seafood shacks along the way.
Upcoming Conferences
at this Location
Seaside gardens, nature preserves, hikes with sweeping views, historic lighthouses, farm to table dining and the list goes on of what the mid-coast of Maine has to offer to its locals and visitors.
Outdoor beauty is in abundance; State Parks such as Camden Hills State Park offer a great variety of activities across its 5,500 acres, from leisurely bird-watching to downright athletic, off-road biking. Amongst the 30 miles of hiking trails is Mount Battie, where from the top is an unobstructed view of Penobscot Bay and the towns and islands below; on a clear day it is possible to see as far as Cadillac Mountain at Acadia National Park.
Traveling US Route 1 along the coast of Maine may well be the most interesting and scenic road trip in America. Maine enjoys an abundance of natural attractions including an estimated 5,000 miles of coastline.
When passing through Rockport, be sure to take a stop and selfie with the Andre the Seal statue, or take a mini detour to Sweetgrass Farm Winery and Distillery in Qaldoboro to experience a little slice of heaven on earth to have a taste of authentic Maine. Be sure to keep an eye on the local events calendars to find fun and family friendly festivals all year round; from the infamous Maine Lobster Fest in Rockland, the Great Schooner Race starting in Gilkey Harbor, to the Acadia Night Sky Festival, there is sure to be something new and exciting to experience.
Maine is an outdoor playground for nature enthusiasts, adventure seekers and for those looking to spend a relaxing weekend in a peaceful setting. Almost all of the cheerful and welcoming harbor communities offer a variety of scenic boat tours from schooner excursions, to sunset dinner cruises on the Penobscot Bay and sailing tours to nearby towns and islands. Renting a kayak is also a great way to explore the Maine outdoors by water, where you can view historic lighthouse, birds and seals. If two wheels is more your speed, cycling is a great way to enjoy some of this same landscape of winding country lanes and rockbound coast.
Local crafts, galleries and notable museums are a reflection of the vibrant and creative arts community in these midcoastal towns. The Farnsworth Art Museum in Rockland celebrates Maine's role in American Art and offers a nationally recognized collection of works from many of America's greatest artists. The Center for Maine Contemporary Art is worth a visit for the stunning glass and corrugated metal building alone. And for a more tangible experience, visit some of the many galleries and shops offering works from local artists and artisans who draw their main inspiration from the beguiling stretch of shoreline from Brunswick up the western edge of Penobscot Bay.
Whether you're looking for a quick bite or a sit-down dinner to enjoy fine dining and good company, there is no shortage of opportunities to fill your stomachs and fulfill your culinary dreams. Endless fresh seafood, with lobster boats travelling to and from Penobscot Bay daily, combined with the state's great farming culture are the key ingredients to the area's foodie reputation. Maine boasts its culinary reputation on their delicious lobster rolls, but their gastronomical culture stretches far wider.  With an emphasis on local whole foods, Maine's creative and progressive take on respect for the environment inevitably produces delicious and beautiful snacks, meals, and plates that are significantly special to this state.
The Maine coast has an abundance of restaurants and snack shacks serving lobster in one form or another. While cruising Route 1 you are more than likely to pass by a restaurant selling rolls heaping with lobster, Maine crab and lemon butter, clam chowder and fresh local oysters. When the weather is good, head to restaurants that maximize your views of the state's picturesque natural splendor. Many such eateries overlook the water, and a deck that offers outdoor dining for you to soak up the sun.
What better way to start the day than at Seafolk Café in Rockport which hosts great views of the Rockport harbor, brews strong coffee, and a great option for breakfast sandwiches, pies made with local blueberries, and small treats.
For a more elegant dining experience, be sure to make a reservation at Primo in Rockland, where two-time James Beard Award-winner Melissa Kelly runs the garden-and-greenhouse-to-table restaurant. Primo is dedicated to the endless pursuit of a more sustainable ecosystem filled with love, creativity and respect for the food by maintaining 2 greenhouses, over 200 laying chickens, 150 broiler chickens, 5 ducks, 15 pigs and 3 acres of vegetables continuously rotating throughout the season.