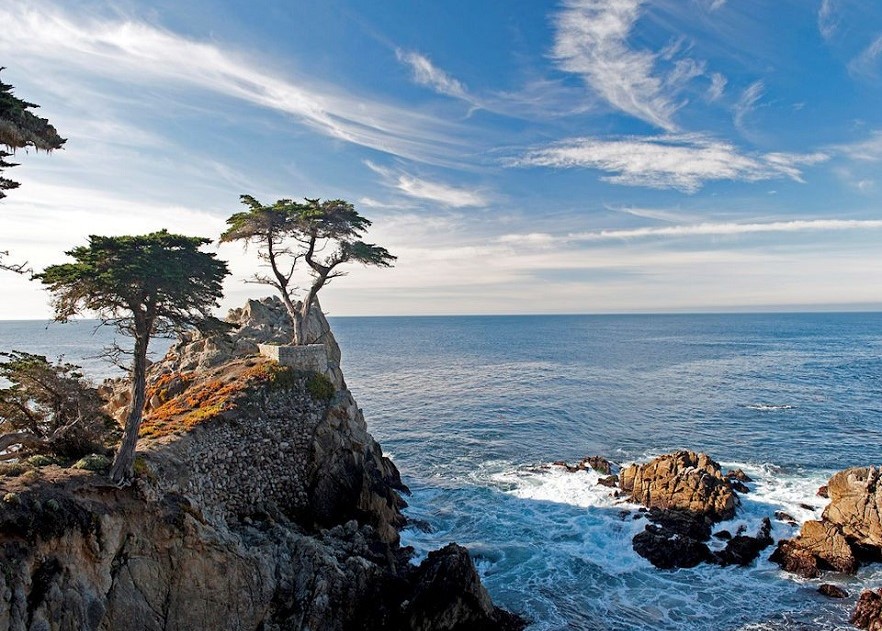 Few places on earth can live up to their own mythology, but Monterey is a notable exception. No matter what you've heard or seen in feature films, nothing can prepare you for the jaw-dropping beauty along Monterey's fabled coast and village-like pedestrian thoroughfares. Monterey County offers iconic California experiences, with a little something special for everyone just waiting to be enjoyed. Experience the top road trip in the United States as you wind along the breathtaking Big Sur coastline on Highway 1. The history of Monterey is part of its charm. Throughout the county, the story of Monterey's rich heritage is evident in adobes, gardens, mission bells, and lighthouses. The allure of this historic area continues to enthrall writers, artists and retreat seekers. Monterey is an unforgettable destination that will invigorate your soul.
Be sure to not miss Monterey's iconic attractions including the Monterey Bay Aquarium, Cannery Row, Pebble Beach, and Carmel Beach. Discover a quaint little seaside village with antique shops and art galleries in Moss Landing. John Steinbeck fans can visit his boyhood home, the Steinbeck House, for lunch and then tour his literary work at the national Steinbeck museum.
Monterey is one of California's most celebrated scenic and historic coastal destinations. The Monterey Peninsula is a world-renown golf destination with 26 public and private courses. Three courses located in Pebble Beach—Spyglass, Poppy Hills and Pebble Beach itself—are consistently ranked among the top ten courses in the nation.
One of the most scenic drives on the Monterey Peninsula, and quite possibly the world, resides behind the prestigious gates of Pebble Beach. The famous 17-Mile Drive is a visually stunning stretch of roadway which hugs the pacific coastline from Pacific Grove to Pebble Beach featuring awe-inspiring sights along the way.
By paddle, pedal, foot or golf cart, you're going to have ample opportunity for things to do in Monterey. Fun Fact: Monterey is one of the largest wine growing and producing regions in California made famous by unique microclimates and diverse growing conditions that produce 32 varietals. Wine lovers can tour wineries and sample tasting rooms throughout Carmel Valley, Salinas Valley and Carmel-by-the-Sea.
Nature enthusiasts can get their fix with rock climbing at Pinnacles National Park overlooking the lush Salinas Valley, or mountain bike riding at the picturesque Fort Ord National Monument. Or try hiking the peaks of Toro Park, just outside of Salinas. Take advantage of Monterey's beautiful weather and walk the Path of History where you can experience what life was like when Monterey's served as California's capital.
Monterey County is a foodie paradise with a bounty of local agriculture, viticulture and sustainable seafood. Visitors can explore this Mecca via fork and knife, and tour farm and field to experience the roots (literally) of Monterey County's epicurean delights. From acclaimed restaurants to haute events, farm stands to agricultural tours, foodies can sink their teeth into Monterey County in a variety of ways.
Clam chowder is a basically its own food group in Monterey County. Dozens of restaurants on Cannery Row, Old Fisherman's Wharf and throughout the Monterey Peninsula offer this filling comfort food and choosing where to dine on this cozy staple can be tough! Carmel-by-the-Sea's roots are planted firmly in the earth of its artistic and cultural heritage. Originally formed as an artists' community, it remains a central point for both fine arts and performing arts on California's Central Coast.