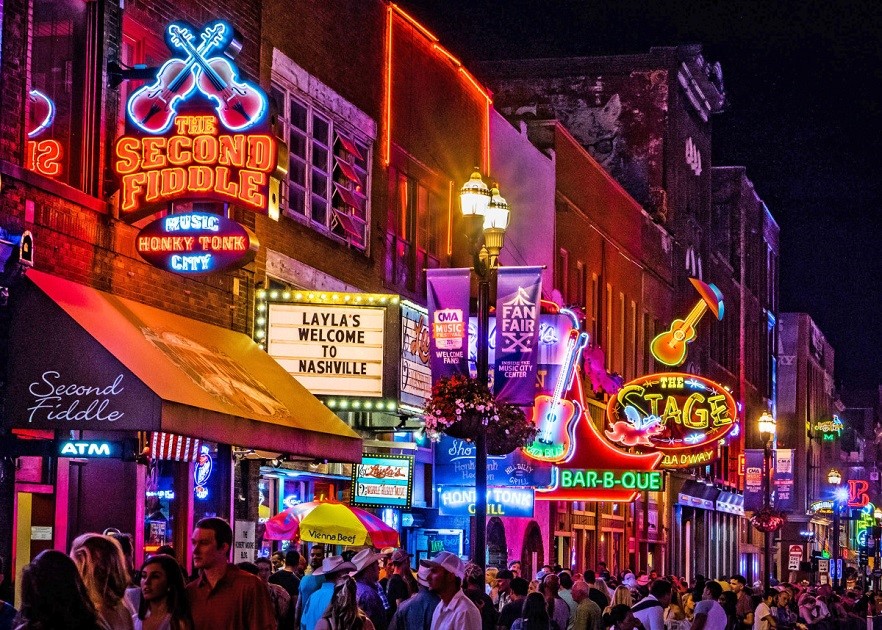 Nashville is the Music City of America with its one-of-a-kind music scene providing a thriving heartbeat of live shows and new sounds for the area. The city provides tourists with endless attractions, festivals, outdoor activities, parks, and fine dining, along with concerts, art exhibits, and historical tours. With the foundation of this city built on creativity there is never a shortage of excitement. Nashville's musical attractions, art scene, museums, and family fun creates the perfect getaway for travelers to experience first hand live action. Bring the family to see the cars at Lane Motor Museum or swing by the Country Music Hall of Fame for a dose of rich history. Many of the museums in the area off free admission for kids. Be sure to also enjoy the Honky Tonk Highway for its live music and entertainment all nights of the week.
Upcoming Conferences
at this Location
From music & entertainment to the creative art scene, Nashville boasts a large variety of live shows along with theaters and art galleries. Known for its creative character, it's easy to find interactive museums such as the Country Music Hall of Fame and Museum, the family-friendly First Art Museum located in downtown Nashville, the honorary Musicians Hall of Fame, the proud Tenness Sports Hall of Fame, and the Lane Motor Museum one of the largest European collections in the U.S. alone. If you find yourself in search of music entertainment, you can't go wrong with The Bluebird Café, The Gallery of Iconic Guitars at Belmont, The George Jones four story of fun, and of course don't skip the Grand Ole Opry a must see on a visit to Nashville.
Entertainment and adventure await you at the Music City of Nashville, where you can find yourself lost in a melody as you walk through the downtown area, soaking in the music on every street corner. Take a music tour to familiarize yourself with the rich history and the artists of the past that influenced what Nashville is today. Watch a live show on General Jackson's Showboat where the music scene is as diverse as you can imagine, filled with Americana, rock, pop, hip hop, and any other genre you can think of. Make sure to swing by the Country Music Hall of Fame, and the must-see Grand Ole Opry for some family fun. There is always something happening in Nashville so make sure to keep an eye out for local festivals and live concerts at some of the top venues in the country.
Nashville's creativity doesn't end with the music, it works its way into every restaurant and bar as one of America's top culinary destinations. The local flare combines dining spots serving Hot Chicken, barbecue, and Meat & Three fare with inspired cocktails. Since Tennessee is known for its low-and slow-barbecue, it is no surprise that Nashville is home to a number of restaurants that cater to this highly desired traditional cuisine. For the spicy lovers the Nashville original Hot Chicken is a must, famous in this city for its fiery spices served over a bed of white bread along with an accompanying pickle, this meal can be found at most any restaurant throughout the city. Make sure to pare it with a drink at one of Nashville's many breweries, wineries, distilleries, & cideries. The local spirits include Single Barrel Bourbon, Rye Whiskey, Gin, and White Whiskey and there are a number of distilleries to showcase this Nashville specialty.