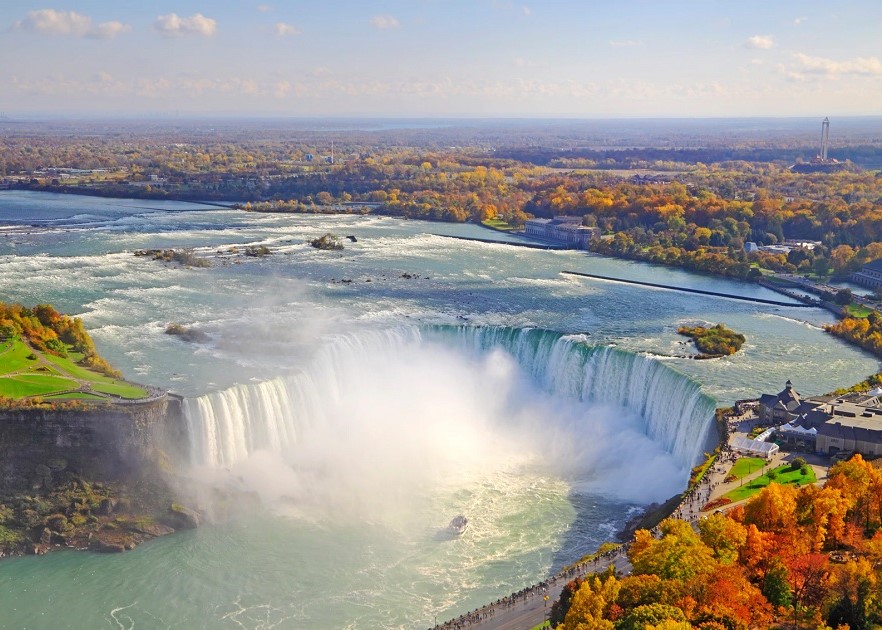 Niagara Falls State Park is the oldest state park in the U.S. Established in 1885 as the Niagara Reservation, it was the first of several such reservations that eventually became the cornerstones to the New York State Office of Parks, Recreation and Historic Preservation. Niagara Falls is a city on the Niagara River, in New York State. It's known for the vast Niagara Falls, which straddle the Canadian border. In Niagara Falls State Park, the Observation Tower, at Prospect Point, juts out over Niagara Gorge for a view of all 3 waterfalls. Trails from the Niagara Gorge Discovery Center lead to other viewpoints. The Aquarium of Niagara is home to Humboldt penguins, seals and sea lions.
Every year, millions of visitors come to see the spectacular beauty of Niagara Falls. It's always free to walk into Niagara Falls State Park to see the Falls, and it's open 365 days a year! What many people are happy to discover, however, is that along with this majestic natural wonder, the Niagara Falls tours and activities that you can enjoy inside the park provide hours of added fun! Looking for a fun way to "explore the roar?" The Niagara Falls Maid of the Mist tour takes visitors on an excursion into the basin of Niagara Falls State Park's Horseshoe Falls. The Maid of the Mist boat tour in Niagara Falls, NY has been described by generations of visitors as one of the highlights of their trip.
Encounter the splendor of the American Niagara Falls and Niagara Falls State Park, home to jaw-dropping natural beauty, miles of trails and fascinating historical sites just waiting to be explored. Niagara Falls State Park is situated on 400 acres of lush terrain, where you'll find protected wildlife and an array of exciting activities and fantastic attractions. Storied landscape architect Frederick Law Olmstead, who also designed Central Park, created a wonderland that surrounds Niagara Falls which includes gardens, over 15 miles of challenging hiking trails and stunning views at every turn.
Rich in natural and cultural resources, the Niagara Falls region has significant historical associations with American Indians, early European exploration, the French and Indian War, the American Revolution, the War of 1812, and the Underground Railroad. The Falls have long been an important site for hydroelectric power and ancillary industries. Together, these elements have contributed to Niagara Falls' importance in the American imagination, as a national landmark and a symbol of the American conservation movement.