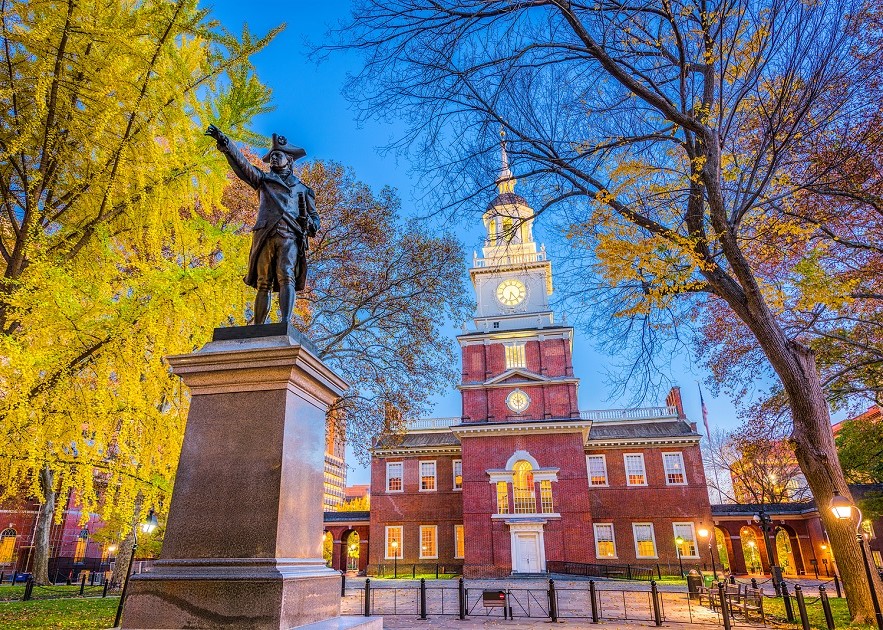 With its rich historical heritage, Philadelphia is one of the United States' most visited cities. After all, both the Declaration of Independence and the United States Constitution were signed here in Independence Hall. Renaissance man Benjamin Franklin once called this city home. And before Washington, D.C. usurped its role, Philadelphia served as the country's capital. Yet the city is far from being stuck in its glorious past. The Philly of today is filled with notable museums, a bumping nightlife, beloved sports teams and a thriving restaurant scene that encompasses more than just the ubiquitous cheese steak.
Every year, hundreds of thousands of residents and visitors chow down on delicious food at Reading Terminal Market, snap selfies with the Liberty Bell, explore the halls of the Philadelphia Museum of Art or head to outside-the-city hot spots like Peddler's Village and Longwood Gardens. No battles were fought in Valley Forge, but the time the Continental Army spent here went down as one of their most trying periods. Exhibits, artifacts, replicated huts and the original headquarters tell the story of the pivotal winter that George Washington and his troops endured at the site. The 3,600-acre Valley Forge National Historical Park — a magnet for runners, bicyclists and picnickers as well as history buffs.
Philadelphia, Pennsylvania's largest city is notable for its rich history, on display at the Liberty Bell, Independence Hall (where the Declaration of Independence and Constitution were signed) and other American Revolutionary sites. Also iconic are the steps of the Philadelphia Museum of Art, immortalized by Sylvester Stallone's triumphant run in the film "Rocky." Peddler's Village offers small-town colonial charm just one hour from Center City Philadelphia. It offers festivals for every season, 60-plus stores for shopping and the just-for-kids Giggleberry Fair area. There are so many family friendly activities to enjoy!
The food scene in Philadelphia goes well beyond the cheesesteak and soft pretzel. It's also amazing vegan fare, BYOB (bring-your-own-bottle) restaurants, world-class craft local beer, a flourishing distillery culture, and chef-driven concepts and passion projects. Philly's food scene is about neighborhoods that grow with their restaurants—and competing chefs who work together. It's about sourcing ingredients from the region's rich farmland and giving casual dining its due. It's about embracing delicious diversity. On the topic of diversity as well in the 19th and 20th century immigration and migration led to large concentrations of all different heritages, creating a Historical Melting Pot in the Philadelphia area.