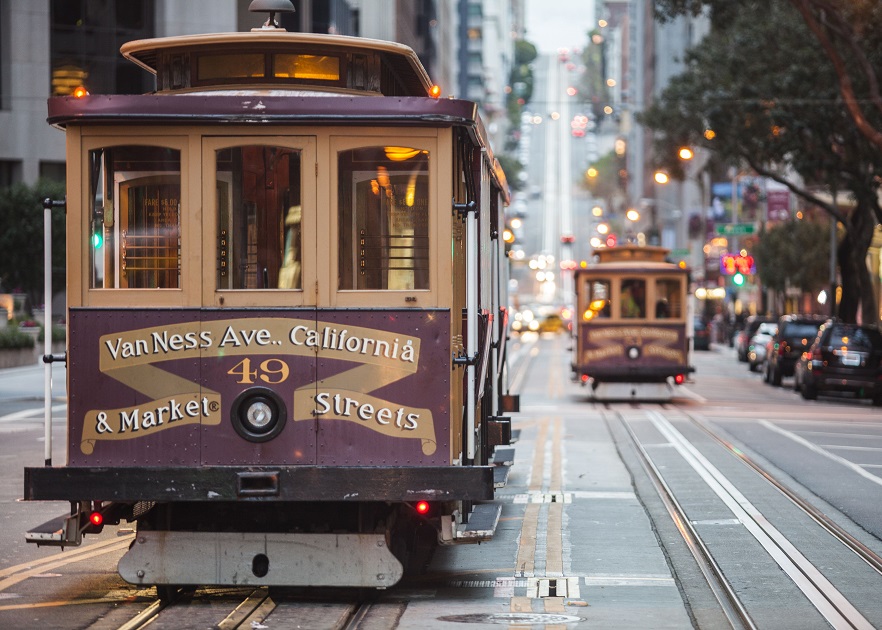 San Francisco is a magical and breathtaking metropolis that is home to an eclectic population. From the famous Golden Gate Bridge to exquisite art galleries, the "City by the Bay" takes pride in its unrivaled attractions, renowned museums, 43 hills, and vibrant neighborhoods. From the ever-changing Mission District, to lively Castro, the bustling Union Square, and colorful Chinatown, this dynamic town thrives on variety. The city encompasses a unique seven-by-seven peninsula full of brightly painted Victorian houses and swirling fog. Discover the variety of landmarks, shops, and restaurants that reflect the City's great ethnic and cultural diversity. San Francisco and the surrounding areas may not be covered in snow come December, but they still have plenty of that magical, winter wonderland feel. From Thanksgiving through New Year's Day, San Francisco will be aglow with dozens of eco-friendly, light art installations and the holiday window displays, along with ice skating at Union Square, mean the holiday season is thriving!
Upcoming Conferences
at this Location
San Francisco is one of the easiest cities in the world to navigate. Since the city is so compact and follows a grid layout, there are plenty of transportation options abound in the City. Some of these options include world-famous cable cars, taxis, and reliable public transportation, it's the perfect way to get around to all the attractions during your time in San Francisco. With its voluminous hills and spectacular bay, San Francisco captivates visitors with its natural beauty, vibrant neighborhoods, and contagious energy. Each of San Francisco's major neighborhoods has its own distinct district culture and charm. From shopping around Union Square to eating dim sum in Chinatown, the City's bohemian outpost packs a lot into its 7 x 7 mile radius.
Whether you're out jogging, cycling, skating, picnicking, attending a museum, checking out a concert or dozing in the sunshine, Golden Gate Park is the perfect playground for fast-paced types, laid-back dawdlers, and everyone in between. More than 1,000 acres stretch from the Haight all the way to the windy Pacific coast. The park contains a vast patchwork of woods, trails, lakes, lush gardens, sports facilities, museums, and even a herd of buffalo. You can hit the highlights in a few hours, but it would literally take days to fully explore the entire park.
One of the top destinations for visitors is San Francisco's Chinatown, which also happens to be the largest Chinatown outside of Asia, as well as, the oldest Chinatown in North America. With hundreds of authentic restaurants and shop's offering traditional wares and tastes from a world thousands of miles away, it's no wonder why over 75% of visitors to the city make the journey to visit Chinatown. San Francisco's waterfront neighborhoods have fabulous views and utterly different personalities. Overpriced Fisherman's Wharf struggles to maintain the last shreds of its existence as a working wharf, while Pier 39 is a full-fledged consumer circus. The Ferry Building draws well-heeled locals with its culinary pleasures, firmly connecting the Embarcadero and downtown. Between the Ferry Building and Pier 39 a former maritime no-man's-land is filling in with the recently relocated Exploratorium, a new $90-million cruise ship terminal, Alcatraz Landing, fashionable waterfront restaurants, and restored, pedestrian-friendly piers.