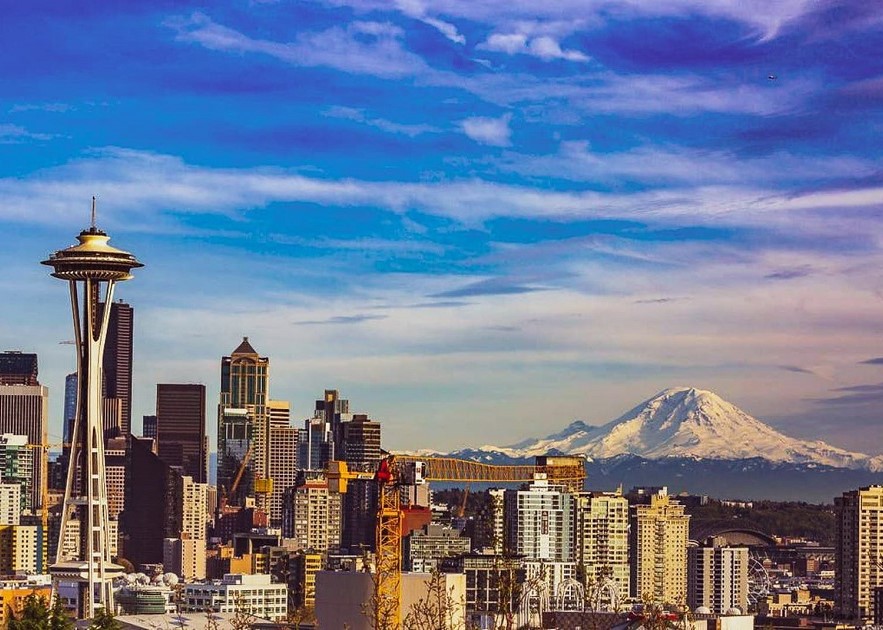 From its retro Space Needle to the booming tech scene, Seattle has always been looking toward the future—but always with the backdrop of the lush Pacific Northwest. For many people, Seattle is famous as the birthplace of the grunge scene, but the city's musical heritage stretches way beyond Nirvana and Pearl Jam. Whether you're into indie bands, world music or hip-hop, Seattle's music scene is diverse and constantly evolving. Take in stunning views from vantages around town, including Kerry Park and the Seattle Great Wheel on the waterfront. Learn all about the region's deep aviation roots among the vintage airplanes and spacecraft at the Museum of Flight. Peer up at more than a thousand colorful glass discs suspended overhead in Chihuly Garden and Glass. There's not many cities that can offer you that kind of blend so get started on your adventure today!
Space Needle is a must see on your visit to Seattle, more than 50 years old, Seattle's most iconic building is as quirky and beloved as ever. The distinctive, towering, 605-foot-high structure is visible throughout much of Seattle—but the view from the inside out is even better. Just steps from the base of the Space Needle, fans of Dale Chihuly's glass works will be delighted to trace the artist's early influences— neon art, Native American Northwest Coast trade baskets, and Pendleton blankets, to name a few—to the vibrant chandelier towers and architectural glass installations he is most known for today.
Seattle is a city of many neighborhoods: eclectic, urban, outdoorsy, artsy, gritty, down-to-earth, or posh it's all here, from the quirky character of the Seattle Waterfront and the eccentric "Republic of Fremont," to hipsters walking baby carriages past aging mansions on Capitol Hill. There's something for just about everyone within this vibrant Emerald City. Seattle is a sprawling city with lots of neighborhoods to explore, a lively downtown core, and a half-carny waterfront that attracts the sea-lion's share of tourist attention. Central Seattle—including downtown, Belltown, Seattle Center, South Lake Union, the waterfront, and Pioneer Square—is fairly compact and walkable. There is also a good bus system, a streetcar that connects downtown to South Lake Union, and a light-rail system that connects Seattle to the airport and makes some stops along the way.
In the city where Starbucks was founded the coffee is spectacular, Seattle also has a thriving network of restaurants, pop-ups, and breweries. The salmon is some of the freshest you'll ever taste, while in Cascade hop country, micro-brews are on tap everywhere. Sip offerings from more than 100 different Washington wineries in nearby Woodinville. Pike Place is one of the nation's largest and oldest public markets dates from 1907, when the city issued permits allowing farmers to sell produce from parked wagons. At one time the market was a madhouse of vendors hawking their produce and haggling with customers over prices. Now you might find fishmongers engaging in frenzied banter and hilarious antics, but chances are you won't get them to waver on prices. There are many restaurants, bakeries, coffee shops (including the flagship Starbucks), lunch counters, and ethnic eateries in this area. Go to Pike Place hungry and you won't be disappointed.