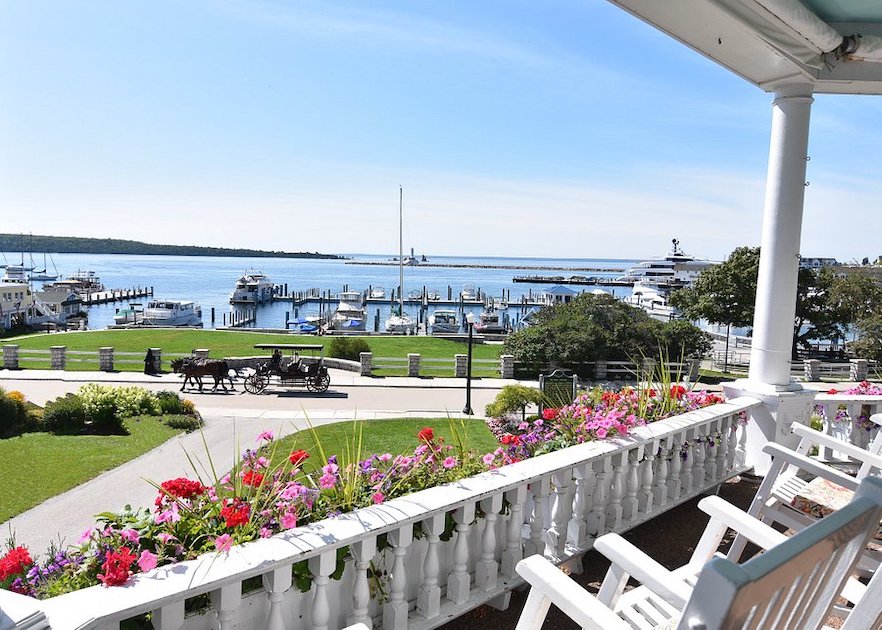 Mackinac Island sits in Lake Huron, between Michigan's Upper and Lower peninsulas. Mackinac Island State Park, with trails, woods and the limestone Arch Rock formation, covers most of the island. Founded in 1780, Fort Mackinac is a walled cluster of military buildings on a coastal bluff. For centuries, visitors have found this national landmark to be the ideal vacation spot. No cars. No chain hotels. Just world-famous Mackinac Island Fudge, historic Fort Mackinac, unique shopping and diverse dining. Unforgettable sunsets, awe-inspiring sunrises and extraordinary nightlife befit their ranking as a Top 10 U.S. Island by TripAdvisor and USA Today. ​Start planning your trip to Mackinac Island…the Jewel of the Great Lakes. Enjoy beautiful vistas, shopping, and carriage rides during the day, and watch the city transform at night with its happening music and bar scene. Mackinac Island has something for everyone.
Upcoming Conferences
at this Location
Mackinac's unique geologic history created dramatic limestone landmarks, the most famous of which is Arch Rock. This rare formation stretches nearly 150 feet above the water. The Anishinaabe-Ojibwa tradition states that this is where the Great Creator blew the breath of life into the newly formed earth. Like Devil's Kitchen (on the southwestern shore of the island) and Sugar Loaf (1.5 miles north of downtown), this limestone formation was formed over thousands of years by wind, water and receding glaciers. This is a must-stop photo op. Governor's Summer Home was originally built as a private summer cottage, this pristine Victorian mansion was sold to the state in the 1940's and converted to be used as the governor's summer residence. The mansion is the only summer residence provided by a state for its governor, putting Michigan's governor in a club all to his or her own. The home is open for free public tours every Wednesday throughout the summer.
Mackinac Island is world-renowned as the place to get away from it all and relax. But when you're looking for something to do, there's plenty to find! Historic forts. One-of-a-kind golf courses. Horse-drawn carriage tours. World-famous fudge. Leisurely bicycle rides along the lakeshore. Even the ferry ride to Mackinac Island is part of the fun! No matter your age or who you're traveling with, Mackinac Island has something to do for everyone – rain or shine.
Nothing is more enchanting than being surrounded by hundreds of beautiful butterflies. At one of the two butterfly houses on Mackinac Island you can meander through the enclosed tropical gardens while butterflies flutter peacefully around you. It's magical, and educational, too; don't miss the interactive Insect World exhibit for more hands-on learning. You can catch the butterflies at either the Original Butterfly House in downtown or the Wings of Mackinac Butterfly House up-island on Surrey Hill.
The cuisine of Mackinac Island is as diverse and intriguing as the Island itself. From historic hotels with world-renowned chefs to quaint little eateries full of personality, Mackinac Island's menu offers something delicious for everyone. As you explore the natural wonders of the Island, you can embark on a culinary adventure, too. And after sunset, after the day trippers board the ferry back to the mainland, it's time to let loose and indulge in the nightlife of Mackinac Island's many restaurants and bars! For over 100 years, you've been able to enjoy High Tea at the Grand Hotel. Served daily from 3:30 to 5:00pm, guests can enjoy petite sandwiches, scones and pastries, along with sherry, champagne, and of course, tea. Classical music surrounds you as enjoy your afternoon delight in the magnificent parlor.