Sedona / Grand Canyon

, AZ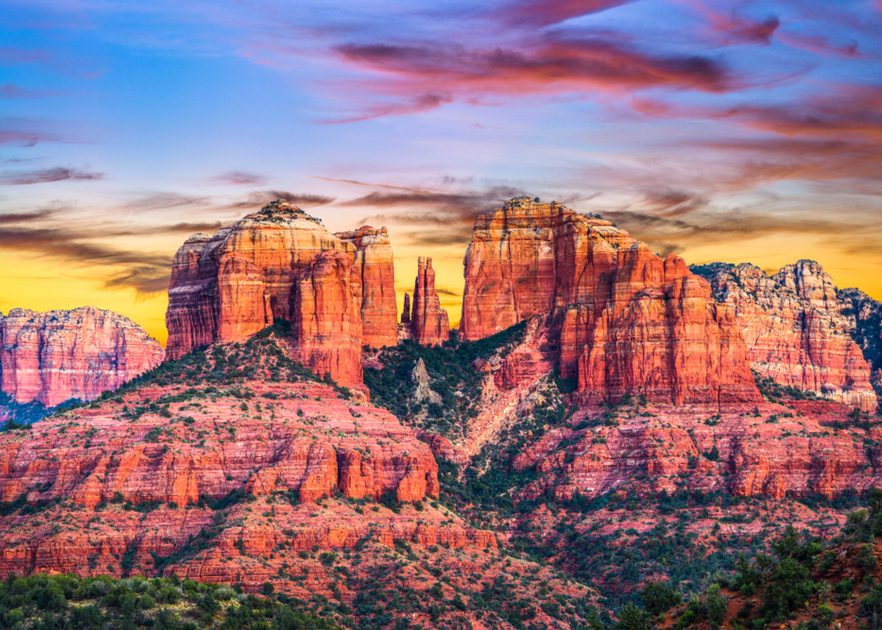 Often called "Red Rock Country," Sedona is a four-season playground for everyone – whether you're into history and archaeology, arts and culture, shopping, outdoor endeavors, or the spiritual and metaphysical, you'll be able to do this all in with backdrop of some of the most spectacular scenery in the world. Watch the sunset from Airport Mesa or explore Red Rock State Park. Whether you swim in one of the numerous swimming holes in Oak Creek, enjoy an outdoor picnic or visit the unique Chapel of the Holy Cross, Sedona offers incredible adventures for all those who visit. There are several great family fun activities just a 20 to 60-minute car ride away, including the famous Grand Canyon! The first time you see the magnificence of the Grand Canyon is sure to be a memory you and your family will never forget.
Upcoming Conferences
at this Location
Red Rock Crossing is one of the most photographed scenes in the southwest is towering Cathedral Rock reflected in the waters Oak Creek at Red Rock Crossing. People come here to fish, swim, wade in the creek, picnic, and photograph the scenery. Also, Bell Rock, with its distinctive shape right out of your favorite Western film and its proximity to the main drag, this popular butte ensures a steady flow of admirers, so you may want to arrive early in the day. The views from here are good, but an easy and fairly accessible path follows mostly gentle terrain for 1 mile to the base of the butte. Montezuma's Castle Montezuma Castle National Monument is actually two different sites. Montezuma Castle contains some of the best-preserved cliff dwellings in the United States. The second location, Montezuma Well, is located 7 miles northeast of Montezuma Castle and features a large natural limestone sink that fills with water from an underground spring that was used by the Sinagua people over 600 years ago.
Sedona's Red Rock's has a universal reputation for being a place with great spiritual, metaphysical, and magnetic energy. Some believe it has to do with the renowned energy vortexes located in Boynton Canyon, Cathedral Rock, Airport Mesa, and Bell Rock. Responsible for personal enlightenment and spiritual growth, the Sedona vortexes can be a life-transforming and soul-nourishing experience for some. Come explore, meditate, and experience them for yourselves. There's a hike for everyone in Sedona; some are breathtakingly beautiful with panoramic vistas, others wind through steep canyons where the only sound is the wind whispering through the Pinon pines. There are casual, shaded hikes that follow the cool growth along Oak Creek, or you might want to push yourself on one that climbs up over the red rocks to the towering heights where Kaibab limestone glints white in the sun.
Sedona is many different things to many different visitors. For New Age practitioners, it's a spiritual destination prized for its "energy vortexes." Hikers obsess over the red rocks and ancient Native American ruins. Spa-goers can find inner peace at its many health and beauty retreats. What visitors may not realize is that the town has plenty of great places to eat. In addition to old favorites like sustainable Mexican Elote Cafe, health and Ayurveda mecca ChocolaTree Organic Eatery and the locally inspired fare at Enchantment Resort's scenic restaurants, there's a new slew of chefs and eateries bringing the culinary heat to the Upper Sonoran desert. This kooky Arizona town is more than just a New Age destination.